FPS Employment, Labour & Social Dialogue - Development Approach

Februari 2010 - December 2010
Content:



Management Summary
The project was the setup of a working Application Lifecycle Management approach, with a supporting toolset, allowing for a greater business agility and productivity of development teams, as well as the procedure development for utilizing the ALM tools. This approach was the elaboration of a previous assessment, and initially based on JAVA development, but was later to be adopted for other types of projects as well. The project played on three pillars: People, processes and tools. First of, in order to reduce the complexity of maintenance, the core technologies were reduced to only those still relevant to the reality of the FPS. In addition, some of the maintenance activities were outsourced to third parties.

In order to do a proper follow-up on all new developments, a platform was installed, based mostly on the Atlassian stack of products in order to guarantee the quality of new development efforts. The processes for the software delivery life cycle (SDLC) were formalized, and templates were created for all activities within development projects to make sure all concerns were addressed. The chosen ALM tooling products were then plugged into these processes to provide measurements and quality checks.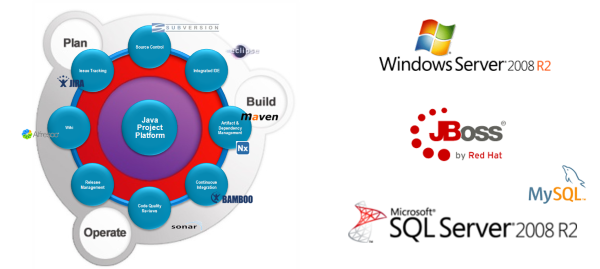 Finally, on boarding processes with training plans, as well as HR hiring guidelines were produced so a that a professional in house development department could be created. A team that would be able to leverage the tooling available to quickly and correctly provide solutions for the requirements of the business departments.