FPS Employment, Labour & Social Dialogue - ITINERA

January 2011 - Juli 2011
Content:

Management Summary
Following the Development Approach project, a need was detected to leverage the existing ALM platform for project follow as well as link it to the IT roadmap and demand management processes. This project will develop plugins to support these processes, in an attempt to formalize the Project Portfolio Management. Project Portfolio Management (PPM) is a term used by project managers and project management (PM) organizations, (or PMOs), to describe methods for analyzing and collectively managing a group of current or proposed projects based on numerous key characteristics. The fundamental objective of PPM is to determine the optimal mix and sequencing of proposed projects to best achieve the organization's overall goals - typically expressed in terms of hard economic measures, business strategy goals, or technical strategy goals - while honoring constraints imposed by management or external real-world factors. Typical attributes of projects being analyzed in a PPM process include each project's total expected cost, consumption of scarce resources (human or otherwise) expected timeline and schedule of investment, expected nature, magnitude and timing of benefits to be realized, and relationship or inter-dependencies with other projects in the portfolio.
For example, the illustration below is a graphical representation of the demand management process at the organization. It was to be formalized and automated where possible, as indicated by the gears added to the decision flows. The document icon indicates the need for a standardized template to be used, and the vertical extension determines the development environments where this automisation needs to be introduced. This introduction was to happen in a sequential manner.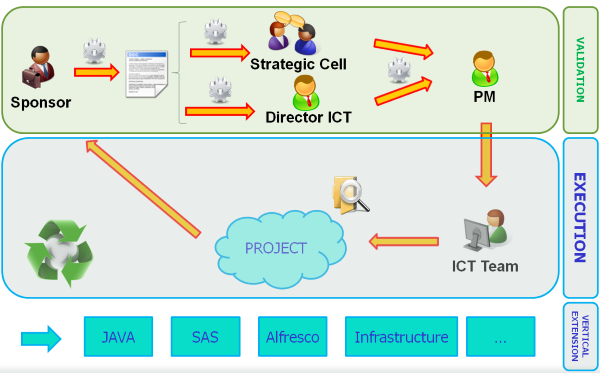 An additional driver for the project was also to extend the current ALM platform as it was instituted for Java development to all development teams (Alfresco, SAS, etc.), as well as absorb the few lingering shadow IT java projects within the Federal Public Service.
Team Composition