FPS Employment, Labour & Social Dialogue - WASOA

January 2010 - July 2010
Content:



Management Summary
Today the value of an organization lies in the ability to react flexibly to the needs of the customers, the so-called business agility. SOA provide the technology to meet these ever changing business needs. But SOA is not only an IT strategy. By implementing an SOA, we transcend the boundaries of a project or division within an organization. In short, the business people must be involved in creating an SOA. An SOA consists of a series of individual services, each bearing responsibility for its value to the business and loosely coupled with each other to form a bigger picture. Each service offers a reusable functionality to the entire organization or even to entities outside the organization. The services should be modeled in such a way that they are reusable and that a business process change should have minimal change impact. The real value of SOA goes beyond simply IT and lies firmly in the value it can offer an organization.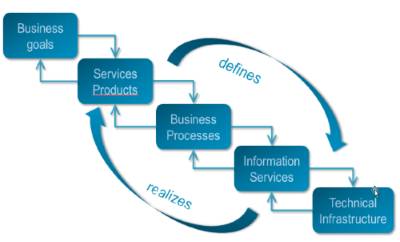 The aim of the project is to increase availability of data and services from outside the organization to the different projects within the organization, as well as offer services back to the outside world. This connectivity will be set up between the FPS ELSD and their partners, being SMALS, CBSS, FPS Economy. This was achieved through the design and setup of an SOA platform on which future services could be hosted for access by other application within the federal service, as well as third parties granted access. The platform was to address a multitude of non-functional requirements, such as security and performance, as well as have an elaborate governance model for its hosted services.