AXA Bank - Enterprise Architecture

November 2019 till December 2021
Content:

Management Summary
As one of the top banks in the Belgian financial landscape, AXA boast some impressive figures as shown in the illustration below, taken from their corporate presentation available at the public website. Simply put, their goal is to proactively accompany people and empower them. This is done with the tools of the trade: tailored advice and financial guidance.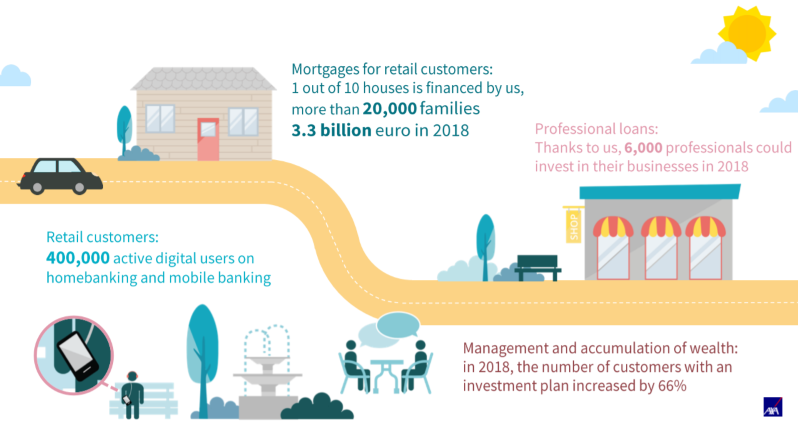 AXA is constantly pushing itself further in digital transformation and rationalization efforts in order to bring maximum value to its customers. Overseeing and coordinating these transformation initiatives is a team of dedicated enterprise architects. They need to make sure the strategic decisions and cohesion of the different business domains is guaranteed across these transformations. On top of overseeing the cross-enterprise concerns, each of these architects has a number of business domains for which he is the panopticon of current transformation activities and the guide for future plans on an implementation level.
My assigned domains are the following:
CUSTOMER: The domain that handles all the information that defines people and organizations as customers of AXA bank.
LOANS: The domain encompassing all processes and activities involving credit lines that can be extended to the customers of the bank, ranging from home loans to professional and personal loans.
Team Composition
The collaboration between Ordina and AXA is based on Ordina's CoSourcing-As-A-Service model where Ordina assists in the resource needs of AXA to find the right person for the jobs that AXA needs doing. This works on the axes of Management, Continuity and Agility, each comprised of a number of focus areas. These axes and focus areas form the platform on which the collaboration between the two organizations is formed. It enriches the simple placement of Ordina consultants at AXA with a community aimed to a more efficient collaboration, and a facilitation of improvement scenarios that can be suggested by Ordina to the benefit of AXA.

The architecture team at AXA consisted of the following people: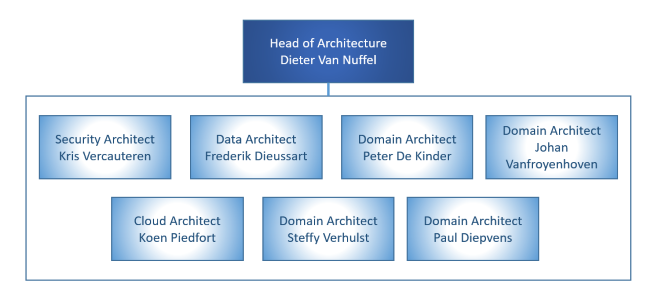 Lessons Learned
In addition to the business-as-usual tasks of Enterprise Architecture, such as the blueprint phases and follow-up of new initiatives, there was also the new reality of the imminent merger with Crelan. To prepare for this, a feasibility study needed to be made, both as validation towards the National Bank of Belgium (NBB) as well as a preparation for the eventual merging of the different business domains and IT components. To do this, processes needed to be listed, data assets needed to be catalogued, and choices for architectural standards and IT rationalization needed to be prepared.